Republican VP candidate Sarah Palin, in St. Louis today (Friday) for a rally and to drop the ceremonial first puck at tonight's Blues hockey game, will also be deposed in the Alaska governor's so-called "Troopergate" scandal.
This well be the first time Palin has spoken at length and under oath about the firing of her state's public safety commissioner, who alleges he was fired because he resisted pressure to fire Palin's former brother-in-law, a state trooper involved in a messy divorce with the governor's sister.
Sources say Palin will be deposed in her hotel room at the Westin in downtown St. Louis. We also hear that her personal attorney, Thomas Van Flein, is also in town for the deposition which will be performed by an independent investigator working for the Alaska personnel board.
Earlier Story:
The Alaska governor and self-described "hockey mom" also dropped the first puck Oct. 11 before Philadelphia's home opener against the New York Rangers, where she was booed by fans.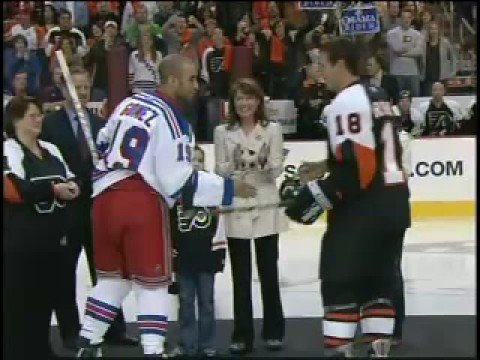 Palin will attend a rally Friday morning in southwest Missouri. Demand for tickets for the Springfield event prompted the GOP to move it from a university arena to the parking lot at Bass Pro Shops to accommodate the expected crowds.